Autumn. There's something magical about it.
At times the world seems to glow with a soft, orange haze. You dig out your coats and scarves again and embrace the crisp, cool air that has started to smell like fireplaces and baked goods.
To be in love in autumn is a special thing. That's why we compiled a list of some autumn date ideas for you and your partner to try out.

1

. Leaf Peeping

Obviously, this is number one on the list because the changing leaves is one of the most spectacular things about autumn. No matter if you are in the heart of a city or far away countryside, there will be trees to marvel at. Jump in the car or go by foot, grab a cup of whatever warm drink makes you happy, and enjoy a slow afternoon together looking at the reds, oranges, and yellows of autumn.

2

. Camping or glamping (just get outside!!)

Autumn is a great time to enjoy the great outdoors. Whether you prefer to rough it in a tent or have a bit more of a luxurious experience in a cabin, it's all the same when you and your partner get out of town and breathe some fresh air. Lace up your boots and gather yourself some firewood. It's a great time to snuggle outside.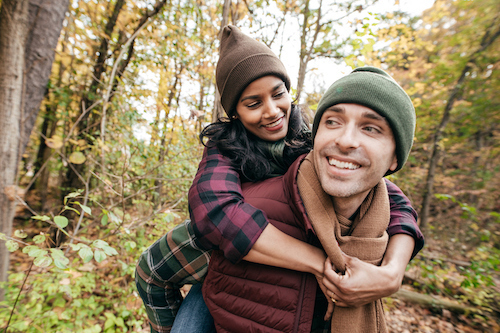 3

. Art Galleries and Museums

If exploring the outdoors isn't your thing, try visiting an art gallery or museum! There's something out there for everyone. Stroll through some centuries old paintings together and make fun of all the naked babies, or go further back in time by visiting the dinosaurs and fossils of the ancient world. Exploring can sometimes be more exciting indoors and museums are the perfect place to do it.

4

. Cinema trips

Dinner and a movie are classics for a reason. It's common for big blockbuster films to be released this time of year, and with the world opening up again cinemas are a wonderful place to go on a date. Go see that movie you have both been waiting for, and don't forget the popcorn!

5

. Apple Orchards

Technically, it only takes five trees to be considered an orchard, but spotted around the countryside are farms with hundreds, if not thousands, of trees that you can stroll through to find that perfect red delicious. These farms typically open up their gates to people in the fall and allow them to pick their own basket of apples (at a cost, of course).

6

. Pumpkin Patches

Oh my gourd aren't pumpkins patches fun! Pumpkins are a huge part of autumnal decoration and cuisine. The possibilities of pumpkins range far beyond that of a spiced latte. You can carve them, paint them, bake them into pies, cook them into soups, or just leave them on your doorstep for a while until they eventually collapse in on themselves! However temporary, picking pumpkins with you love is a great way to have some fun and be your own pum-king and pum-queen.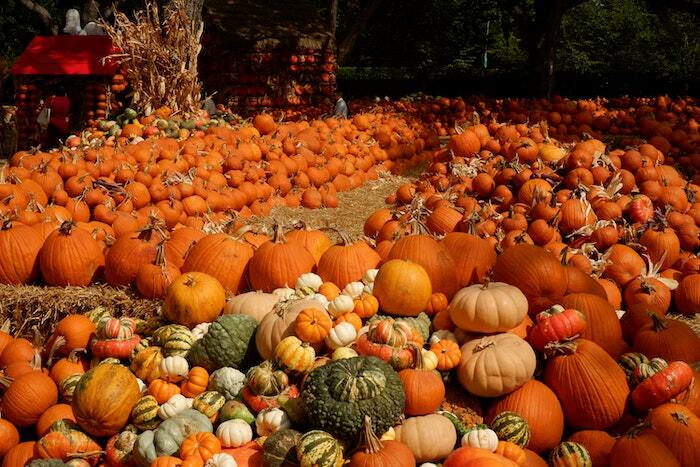 7

. A cosy night in

When the weather changes sometimes it's just nice to stay home wrapped up in blankets and drinking something hot. It can still be a date even if you never leave your living room, as long as you put some thought into what you do. The possibilities are endless at home, really. You can put on an album and ask each other questions, give each other gifts, or reminisce about when you first met. You could watch your favourite movie and order take out. Whatever you do, it's important to make it feel a little extra special since you're at home.

8

. Baking together

For some the process of baking is relaxing and enjoyable, while for others the process of consuming said baked goods is much more rewarding. Whichever category you fall into, it's a win-win. Baking together may sound silly, but when the flour is flying and the cookies are rising you'll know it was a good choice. Get in the kitchen and give it a go!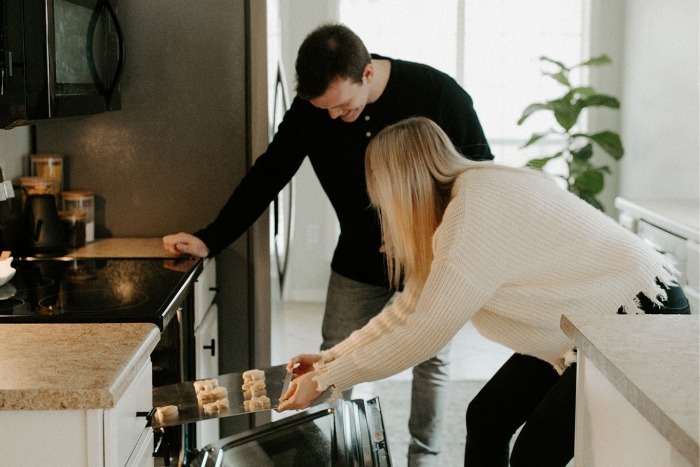 9

. Bookstore dates

Autumn has a way of bringing out the bookworm in many. Perhaps it's because there are innumerable books and poems written about it. If you and your partner love to read, head to a local bookstore and scour the shelves for a book (or magazine) you think your partner would love. Buy them separately, and when you get home give them as gifts to each other and explain why you chose that book for them. Then if the mood is right…start reading them!

Dating your partner, no matter how long you've been together, is the key to enjoying time together. It doesn't matter what you do, the important thing is that you put energy and effort into it.

If you try out one of these date ideas we would love to see it! Take a photo and post it on social media with the hashtag #toucantogether