The baubles, tinsel and mince pies are already in the shops and it's worth reminding oursleves that it's all designed to get us hyped up and make us spend, so how do we reduce stress around Christmas?
One of the best ways to keep stress levels in check is to do a little planning. Of course there are some things we can't yet plan for yet given the pandemic: where we'll spend Christmas and with whom, but there are many other things we can do. Here are our top tips for managing our spending as well as making Christmas special.
1

. Be on the same page as a couple.


It may be awkward or ​'boring' but you'll save a lot of hassle further down the line if you can agree finances as a couple. Spending more than you can afford can also mean that you'll be paying for Christmas for a long time to come! One of the reasons that it can be tricky talking about money is that money means different things to different people. For one partner lavish and expensive gifts spell: ​"I love you", whereas for the other partner spending a little money carefully, or even saving money is the loving thing to do. So it's really important to understand each other's backgrounds and motivations. Toucan Together's free Money Module will help you grow a better understanding of each other, and it's full of tips and tools too. Couples who make decisions together are less likely to experience financial problems, and probably a lot less anxiety too.
2

. Agree a budget.

Work out the total amount you're going to spend for gifts, food and drink etc and stick to it. List essential spending on rent, bills and food etc and calculate what's left plus any money you've put by in savings for Christmas. Toucan Together's Money Module has a free budget planning tool.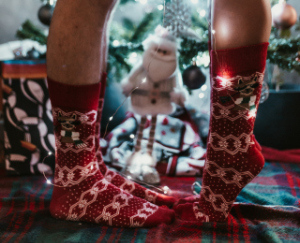 3

. Know who you're buying for and choose carefully.


It's easy to impulse buy, spending far more than you want without a little planning. Think about each person on your list, their likes and needs, and ideas for an appropriate gift within your budget. A well thought out gift (which doesn't have to be expensive) is much better than something that will sit in a cupboard. Doing this as a couple can be fun because you'll each relate to people in different ways, so you can bounce ideas off each other.
4

. Go halves.

Share the cost of expensive presents with someone else. This could be especially meaningful for any children if you've been married before and go halves with your ex.
5

. Don't compare yourselves to others.

Buy what you can afford and like, and don't worry about what others are spending their money on. Your family and friends will love you for being you, remembering the quality time you spend with them more than any gift.
6

. Go bargain hunting.

Black Friday is coming up and often there are even greater bargains as Christmas approaches. Search online. There are some great bargaining hunting tips for Christmas on Money Saving Expert.
7

. Give free, or almost free gifts.

You could try baking cakes and biscuits (taking care re hygiene and Covid). You could also give promises: a date night experience, visit to a special place in 2021, restaurant ​'at home' …write the promises on cards and individually wrap them for him or her.
8

. Be generous to others, consider buying a charity gift.

You can buy seeds, chickens and many, many life-changing presents from only £5 at Oxfam. Warning: don't buy this if you suspect she really would prefer perfume!
9

. Spread your shopping

Start buying some things early and spread the cost. Take advantage of offers and discounts, especially with food if you can freeze items.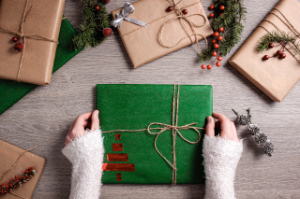 10

. Wrap smart.


A small gift lovingly wrapped in brown paper with a sprig of greenery is cheaper and more environmentally friendly than glitzy wrapping paper. It looks cool too!

If we have children then how we ​'do Christmas' will model something significant to them for years to come …what do you want them to remember?


When we pause and take a moment to think about it we know that Christmas is more meaningful when we spend quality time with the people we love, rather than spending lots of money. With a little planning we can buy presents, stay within a realistic budget and have a great time.

.…..
YOU
MIGHT
ALSO
LIKE
10 Tips to make talking with your partner about money a little bit easier
Going deeper in your communication to build intimacy and trust
8 things you need to know about marriage and ​'happily ever after'