You meet someone, fall in love and at some point she is likely to start scrolling Pinterest boards for wedding ideas (and why not, there's so much inspiration there for the Big Day!)
It's not just the girls who are pro marriage. This week the Marriage Foundation published a survey of 2,000 young adults finding that the vast majority of unmarried 18 – 30 year olds want to get married: 86% of unmarried women and 80% of unmarried men under 30 in a relationship say they would ​"like to get married at some point" in their life.
So we thought we'd ask: what's the big deal about marriage? Is it worth all the hassle and expense of the wedding day?
In one sense marriage as a union between a man and woman has been happening across the continents and cultures for thousands of years. It still remains an enduring commitment across the globe.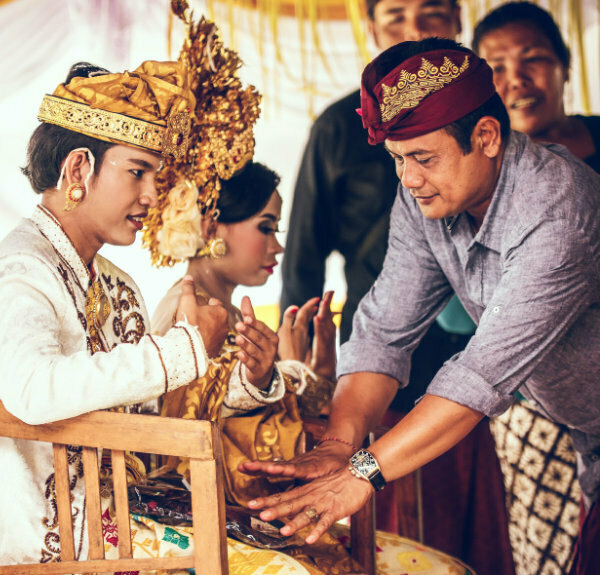 In most cultures marriage is celebrated and in many it is considered a sacred act. The Bible says marriage is God's idea: bringing two people together in a loving, trusting, faithful and committed relationship, to be stronger together than they would be apart. Marriage is considered a gift, a delight and joyful commitment. It is the foundation of family life to nurture children and in which each member of the family, through good times and bad, will find strength, companionship, comfort and the opportunity to grow to maturity. I find this to be an inspiring vision or hope of what a marriage can be.
God, the best maker of all marriages, combine your hearts in one.

WILLIAM

SHAKESPEARE
Whether there is a spiritual dimension to a marriage or not, there is something special about the promises couples make, to be committed to one another for the rest of their lives.
Emma: ​"I love that I get to just be around Adam most of the time, he is the person I most enjoy spending time with. The thing that surprised me the most about being married was the peace that came from having made that public commitment to each other."
Adam: ​"To me, marriage is a thoughtful union where two people choose to come together and love each other regardless of what issue or event happens in the future, or what has happened before."
(We interviewed Emma and Adam about why they decided to get married and what keeps them together — Read the full interview …)
Marriage is an expression of love, but there are also surprising benefits — deep breath — married people are healthier, better off financially and less likely to suffer with drink or drug addictions or end up in prison — yes really!
There are also legal benefits. Many people believe that if you live with someone long term they become your ​'common law spouse' but that isn't true. Unless you have a will your partner gets nothing — zilch — if you die, they could lose their home, your pension and other benefits.
So marriage is good for you and there are good reasons to be married, but what about the expense?

In recent years wedding costs have soared, fuelled by the trends in celebrity weddings, media hype, expectations …and maybe even Pinterest! But this last year of lockdown has shown that simplified weddings with just a few guests can save you thousands, a whole heap of stress and be incredibly special.
It seems to be that what has made the wedding day special is to keep the main thing the main thing, and that is the celebration of marriage itself, of two people making promises to be together in a loving, trusting, faithful union for the rest of their lives.
…..
Toucan Together can help you improve many aspects of your relationship: discover deeper ways to communicate; find positive approaches for resolving arguments; learn to speak each other's Love Languages®️; build friendship, intimacy and a great sex-life. Get started by taking the​'Pulse' of your relationship with our short research-based quiz and see the health of your relationship across seven key indicators. GET STARTED NOW | LOG IN